Towels can be a vital element of any well-designed, professionally-crafted bathroom interior. Thus, it might only ruin your interior's aesthetic vibe when your towels are piled up wet. You need to know that towels that aren't dried up can develop fungi and bacterial growth. So, drying up your towels is very important as it helps you maintain your bathroom hygiene and sanitation. Using a standing towel rack allows your towels to dry up quickly. 
These racks are alternatives to a wall-mounted variety. Aside from being space-saving, easy to install, and portable, these can be one of your aesthetic bathroom elements.
Before we dive into the most recommended products, we need to discuss first the things you have to consider before purchasing one.
Towel racks should be made of durable material. Whether it is stainless or wood, it should be able to handle thick and heavy towels.

The material should be free from rust. You would not want to use a stained white towel nor hang it inside your well-defined bathroom. Rusty towel racks would indeed ruin your bathroom's interior beauty.

Make sure it is lightweight so you could easily move them wherever and whenever you want. Also, it might be necessary for you to move them into a spot exposed to sunlight so you could quickly dry your towels.

Its material has to be suitable for damp environments such as laundry and bathrooms. Thus, choosing a corrosion-resistant material is highly recommended.
Here are some brands you might want to consider for a towel rack:
1. Original AquaTeak Towel Rack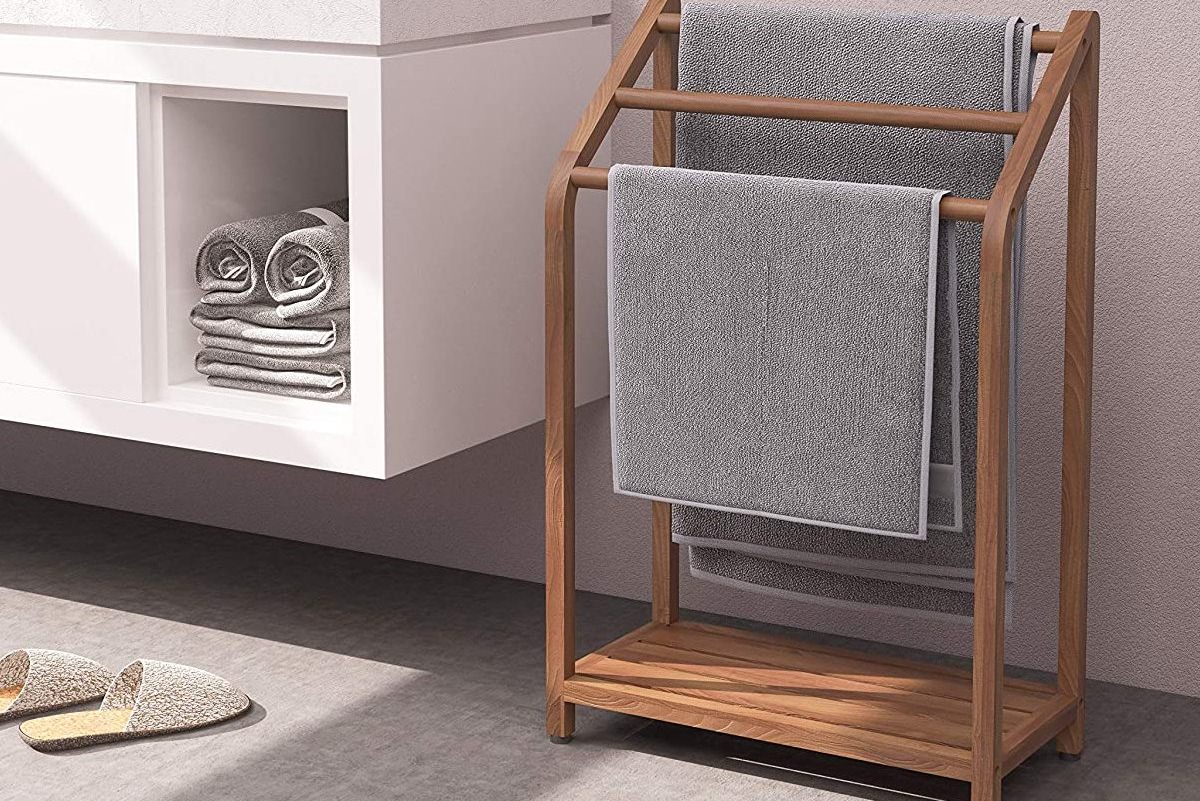 This rack is made of teak wood, which is a durable material for this kind of furniture. This brand is known to have the ability to maintain its rich finish for several years. 
This rack model is suitable for outdoor and indoor usage. It also comes with a five-year warranty to give buyers peace of mind.
2. Kings Brand Towel Rack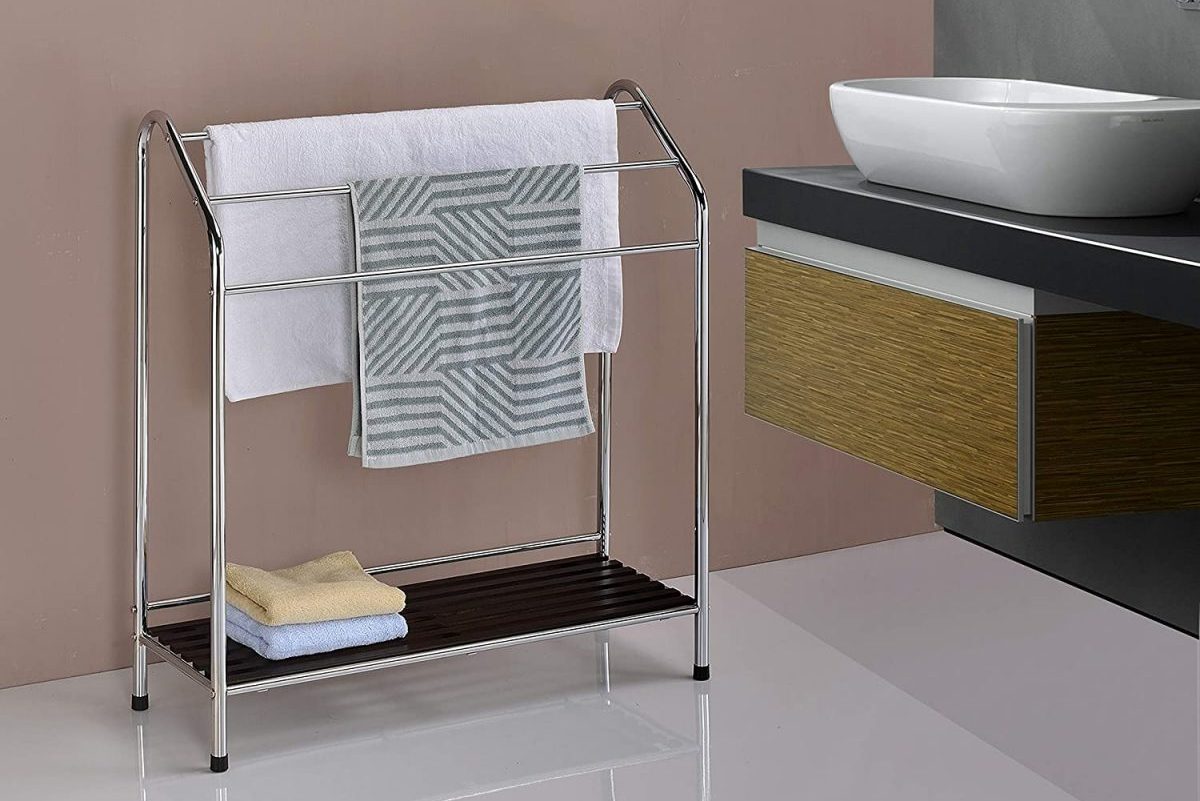 This rack is a competitive unit because of its extra ten inches height compared to average racks. Thus, if you and your family are fond of long, big, and fluffy towels, this rack brand is suitable for your preference.
3. Bamboo and Metal Free Towel Rack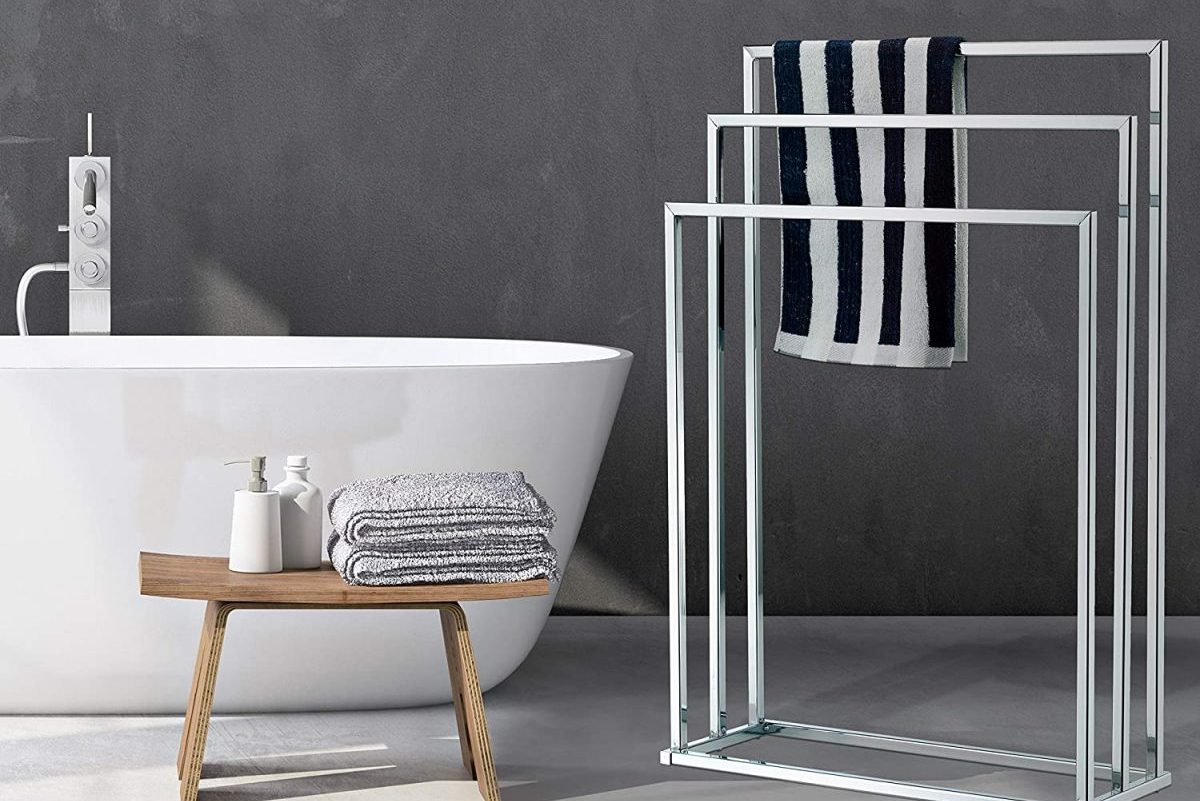 It incorporates a naturally finished rack with a metallic-based matte black rack, and the result is just indescribably stunning. It is perfect for modern bathroom settings.
4. MDesign Large Storage Shelf and Towel Rack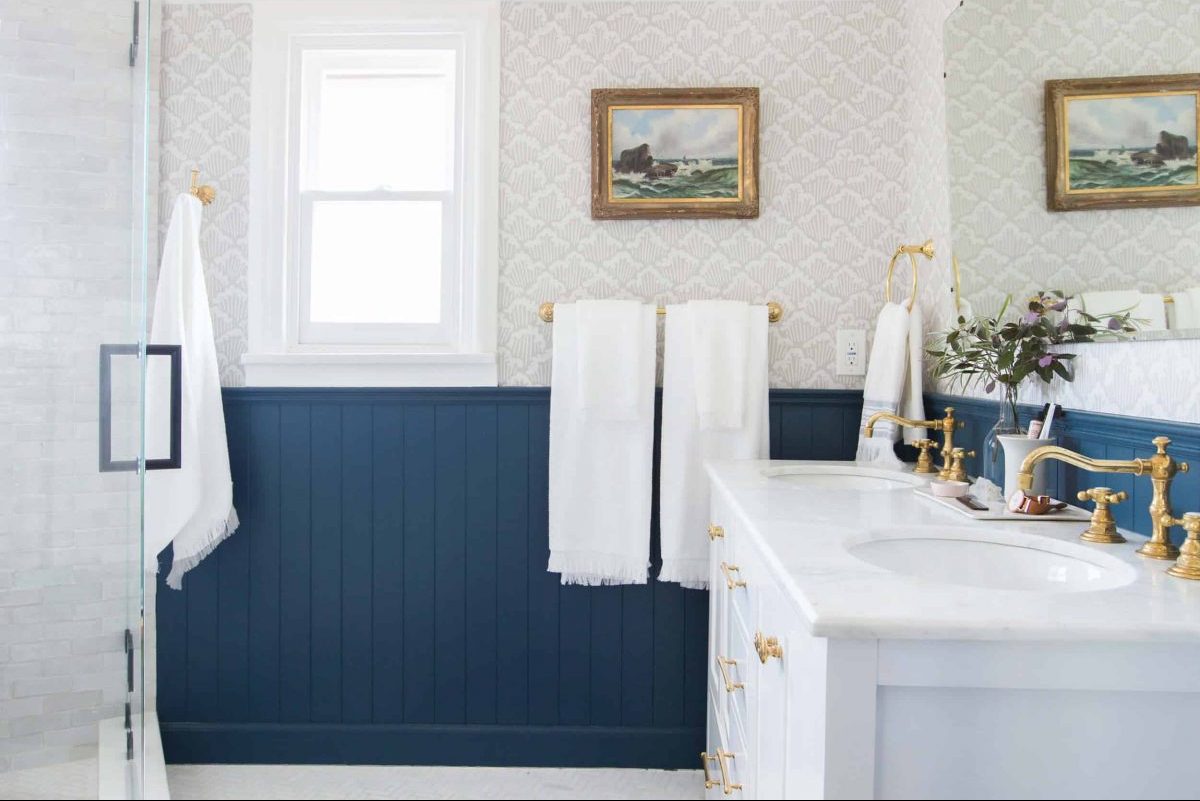 This rack and shelf feature three staggered rails for towels to dry up. Aside from that, it can also be used for robes and clothes. Its wire mesh storage can be accessorized with containers or baskets for your toiletries and cleaning products.
What to consider when searching for the best freestanding rack?
It is not that difficult to pick the most suitable freestanding rack for your towel once you already know what you are looking for. Without further ado, below is a guide that can help you determine some essential considerations before purchasing a towel rack.
Size
Towels need to receive enough airflow to quickly dry up and prevent fungi and bacterial growth. Thus, before buying a rack for your thick towels, you must make sure that its rod is wide enough for your towels to spread. 
The number of rails is also another factor to consider. Think about how many members of the family will utilize the rack. As much as possible, provide one or two rods for each member to use.
Materials
Most rack units are made of stainless steel or durable aluminum, while others are heavier hardwoods or lightweight bamboo. Whatever the material is, you must make sure the rack you're about to purchase can withstand moisture and resist damage.
Style
Freestanding rack units are usually not discreet furniture pieces. Thus, it is essential to select a stylish rack that perfectly matches your bathroom's theme. Check if it coordinates with your bathroom's walls, cabinetry system, and motif. 
A smart way to maintain your interior fashion is to match your towel rack with your drawers' finishes. Also, make sure it complements well to your wall and floor color; in that way, it would smoothly blend along with its colors.