Suppose you are wondering how you can fit all of your collection, daily essentials, shoes, and all other possessions in a small property without having to spend large sums of money for an extension. In that case, you are on the right page. Most people living in small spaces such as apartments or small condominium units would always feel frustrated seeing all the clutters in their living area just because they don't have enough shelves and cabinets for its storage.
Yes, shelves and cabinetry systems are essential for safer storage, but not everyone has enough space for additional furniture. Well, the good news is we have several solutions here! You can transform your bed into multi-purpose furniture. By merging two functional furniture pieces, you can indeed optimize your bedroom space. The most exciting thing is, storage beds have various size and design options, from twin beds to ottomans lift-up and many more. 
All you need to do is figure out what best suits your taste, style, and comfort. Also, don't forget to consider your room's overall layout and theme.
Ottoman Lift-Up Beds with Hidden Storage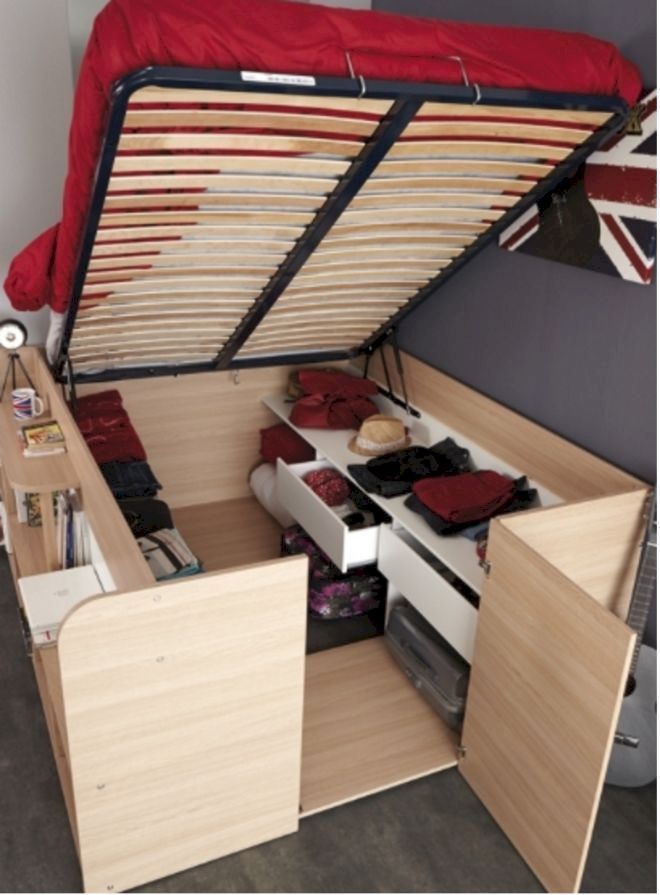 These lift-up beds are known as a larger or double mattress which is also available for single options. These ottoman beds may be your dream-come-true as these can completely hide all your material possessions under one safe space.

These vast spaces can safely store everything you need to keep in its cleanest possible way.

They are accommodating when you have some larger objects or items that are shaped oddly. These large, awkwardly shaped items would most probably not fit inside traditional drawers.

Although you can store anything in this storage system, it is highly advisable not to put things you use every day. You should only keep items such as garments, towels, clothes, and other objects that you don't use on a typical day.
Captain Beds
These practical and quirky storages are known as captain beds. Its goal is to provide efficient storage spaces and enhance your room's functionality and aesthetics.

Captain beds are built around some drawers. These drawers (at the side, underneath, and at the headboard) provide adequate spaces for your random stuff. These are excellent organizers to achieve a cleaner and tidier bedroom.

Users consider a captain bed a handy choice for clothes and items used during a typical day. You can quickly grab some essentials without scrambling all other things on top because you can easily categorize these drawers according to the object types.

The technique is to separate various objects (one drawer for your makeup, one for your pants, lingerie, towels, tops, and accessories).
Trundle Beds
Trundle beds are excellent space-savers. However, its difference from all other kinds of storages mentioned above is that it is not meant for objects; it is intended for another person to lie down and relax.

Suppose you are not the only person who is occupying your bedroom. In that case, beds with comfortable trundles are perfect for the other person to sleep without sharing the main bed with you comfortably.

This bed design is not only for a family member. This can also be used during sleepovers. If you have a relative coming over to sleep in our house for a night and you only have one bedroom available, then you shouldn't worry at all. 
If your bed has a cozy trundle, then you wouldn't have to compromise your sleep quality by sharing your bed with someone else overnight. You may let your visitor use the trundle anyway. Just make sure you put foam on it for immediate use.
Headboard Storages
These headboard storages let you keep your charger, phone, or anything you need before sleeping easy to reach. You may quickly grab and keep a book that you have been reading before you fall asleep.

You may also use it to display decorative elements, souvenirs, frames, and other collections.
TV Beds
Don't you have enough space for another TV table? That shouldn't be a problem at all because we have here a TV bed wherein you can, with a touch of a button, watch your TV before sleeping or the moment you wake up.
This smartly designed feature allows your TV to disappear at the frame's bottom so you could pull the appliance out whenever you feel like using it.

You can also place your keys, books, and any non-food stuff on the surface of your bed's lower part when the TV closes.